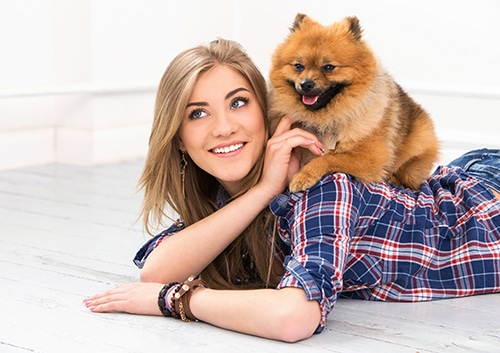 You can probably see how teeth straightening can make your smile more attractive, but you might be wary of how Invisalign Teen treatment works. If you're like most teens at our McAllen, TX office, you love hanging out with your friends, and you don't want to be different, watch what you eat, or worry about how you look. Invisalign Teen has several benefits over traditional metal braces that can make your treatment easier.
People won't know you're wearing them.
Invisalign Teen consists of clear trays that are virtual impossible for others to see. Chances are, the only people who know that you are getting your teeth straightened will be your family and any of your friends whom you choose to tell. You won't need to answer to "Tinsel Teeth" and "Metal Mouth" as some of your classmates with metal braces do.
You can eat what your friends eat.
You take your Invisalign Teen aligners out of your mouth for meals and snacks, so you can eat just like you normally would. You don't need to worry about food getting stuck in your braces or leading to a bracket popping off. Unlike with braces, you can enjoy the following foods with your friends during Invisalign Teen straightening treatment:
Popcorn at the movies
Trail mix with dried fruit when you're hanging out together
Ribs and chicken wings at a party
Eating a peanut butter sandwich, apple, and carrot sticks for lunch
You can take care of your teeth more easily.
It would be a shame if you took the trouble to straighten your teeth and then found out that you had developed tooth decay while wearing braces. This is less of a problem with Invisalign Teen aligners because they are removable. You can brush and floss your teeth as normal just by taking the trays out of your mouth.
Getting straighter teeth can be a serious confidence-booster in the long run, and with Invisalign Teen, the treatment isn't that bad. You can wear these clear aligners without letting people know that you're straightening your teeth, and they won't interfere with your diet or dental hygiene.