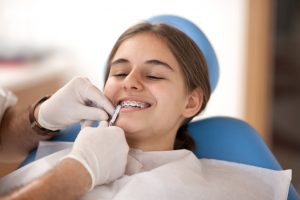 Most parents understand the importance of starting children young with an at-home oral care routine. While children start their dental care routine in their toddler years, do you know the best age to start them with orthodontic treatment? Some parents choose to wait until all of their child's permanent teeth have come in, but what is the real answer? Lucky Number 7
The American Association of Orthodontists recommends an orthodontic check-up no later than age 7 (http://parents-guide.aaoinfo.org/parent-s-guide-post/understanding-early-check-ups/ ). At McAllen Orthodontic Group, Dr. John Gerling and Dr. Joseph Ryan suggest bringing your child in for an orthodontic evaluation at age seven because this is the age when the first molars usually come in. While your child will have a mix of adult and primary (baby) teeth, we can identify any abnormalities or problems. These problems can include crowding, deep bites, crossbites, large overjets, restricted airway issues, thumb habits and open bites.
Early Treatment Benefits
Taking a proactive approach to your child's oral health could prevent physical and emotional trauma as they mature. For example, large overjets (space between upper front teeth and lower front teeth) can lead to an increased risk of trauma to the upper front teeth. In addition, starting early can decrease the possibility of needing teeth taken out in the future.
In some cases, early treatment can help regulate the width of the upper and lower dental arches through expansion. Dr. Gerling and Dr. Ryan began doing expansion 25 years ago mainly to reduce the threat of impacted permanent teeth and reduce the need for extractions. While expansion worked great to make more space, we also found that many parents would come to subsequent visits after the expansion was completed and they would say that their child was breathing better through their nose, not snoring anymore, had a greater attention span and was doing better in school. Some would even claim that their child had fewer sore throats and colds. This has now been recognized as "airway friendly orthodontics" and is rightfully gaining much-deserved attention.
How Soon Will Treatment Begin?
Keep in mind that while you can have your child evaluated for early orthodontic treatment, the treatment itself may or may not begin that same day depending on your child's individual needs. Sometimes early treatment is indicated and sometimes a wait and see approach is indicated.
It is important to note that not every treatment plan is the same. Dr. Gerling and Dr. Ryan work with each patient to develop a custom plan for treatment based on their needs. If treatment is not yet necessary, patients are placed on our orthodontic supervisory program in order to monitor progress.
Is your child's seventh birthday coming up? If you suspect that your child may need an evaluation, contact our office to schedule your complimentary consultation. The sooner we meet, the better our chances of ensuring your child has a healthy smile and even brighter future.